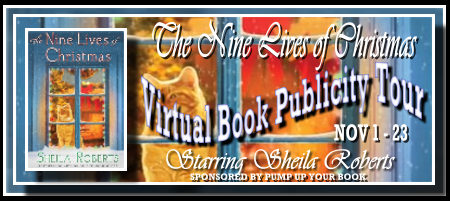 The Nine Lives of Christmas
by Sheila Roberts
Published by St Martins Press
ISBN: 978-0312594497
224 pages, for Adults
Hardcover $10.19
Kindle $9.99
Audio Book: $22.79
About the book:
When a guy is in trouble, he starts making deals with his Creator…and Ambrose the cat is no exception. In danger of losing his ninth and final life, Ambrose makes a desperate plea. He'll do anything—anything!—if he can just survive and enjoy a nice long, final life. His prayer is answered when a stranger comes along and saves him, and now it looks like he has to hold up his end of the bargain.
The stranger turns out to be a fire fighter named Zach, the quintessential commitment- phobe who's in need of some serious romantic help. If Ambrose can just bring Zach together with Merilee, the nice lady who works at Pet Palace, it's bound to earn him a healthy ninth life. Unfortunately for Ambrose, his mission is a lot harder than he ever anticipated. Now it's going to take all his feline wiles—and a healthy dose of Christmas magic—to bring them all together in time for the holidays.
My thoughts:
I listened to the audio version of
The Nine Lives of Christmas
and thoroughly enjoyed it.
I'm sure I got several funny looks while I listened to the book
in the car while driving to work or while waiting for my laundry to finish drying at the laundromat. It's that funny.
Ambrose the cat is a cynical old curmudgeon who is the typical cat. More interested in himself and thinks his "kind" is far more practical and smart than the humans in his life. I have to admit I actually liked Ambrose better than I did the humans in the book. In this book Ambrose has to redeem himself in order to have a long 9th life. It's his last chance and he decides that in order to redeem himself he has to help Zach find a girl - and not the one he has now.
The humans in the book are kind of wimpy
(especially Merrilee). I would of liked to see Merrilee harden up a little - she was just too sweet for me. The person narrating the book did an outstanding job with the voices and it was very easy to follow along.
If you enjoy a good romance and would like to try a book from the cat's perspective - I loved the way Sheila Roberts told the story from the cat's perspective. It was a new twist and very well done.
Giveaways, Contests & Prizes!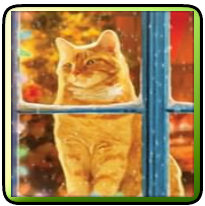 In honor of Ambrose the Cat, Sheila is having a fun contest
over at her blog
! Leave a comment telling Sheila in 25 words or less about the coolest cat you have ever owned and she will pick the best entry on November 30 and announce the winner on December 1. Sheila says, "If you have the coolest cat of all we'll send you a Sheila holiday reading package, consisting of my three Christmas novels, ON STRIKE FOR CHRISTMAS, THE SNOW GLOBE, and THE NINE LIVES OF CHRISTMAS. Contest ends November 30th and we'll announce our winner on December 1st. Can hardly wait to hear about your awesome kitties!"
One entry per household.
Void where prohibited.
U.S. Residents Only.
Leave your comment about your coolest cat at her blog
here
!