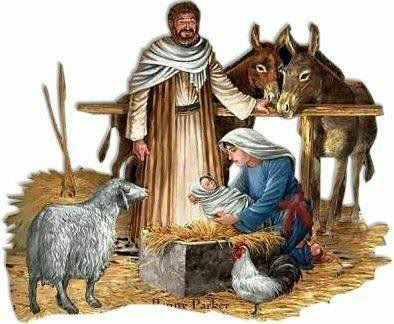 O morning stars! Together proclaim the holy birth,
And praises sing to God the King and peace to men on earth.
(O Little Town of Bethlehem)
Isaiah 9:6
For to us a child is born,
to us a son is given,
and the government will be on his shoulders.
And he will be called
Wonderful Counselor, Mighty God,
Everlasting Father, Prince of Peace.
What does Christmas mean to you?
Is it a time of reflection of the sacrifice God made to give us Salvation?
Knowing that he gave us that which mattered most to him - and provided
a path to Righteousness and the Gift of Life through the death of Jesus -
God's Only Son
and the Resurrection that wiped away Sin?
Did You Know?
Jesus, in Hebrew, means God is Salvation
John 1:14
"The Word became flesh and made his dwelling among us.
We have seen his glory, the glory of the One and Only,
who came from the Father, full of grace and truth."
Jesus, called Immanuel, "God With Us"
was different from everyone's expectations.
Instead of judgement, He brought mercy and love.
Isaiah 60:1
Arise, shine; for your light has come,
And the glory of the LORD has risen upon you.
Jesus - was and is that light,
Have YOU allowed HIM into the dark places of YOUR heart?
John 3:16
For God So Loved The World that HE gave His
only begotten Son, that whoever believes in HIM
should not perish, but have everlasting life.